Next-Gen Ranger
Learn More
Click Here
Click Here

Next-Gen Raptor
Learn More
Click Here
Click Here

Next-Gen Everest
Learn More
Click Here
Click Here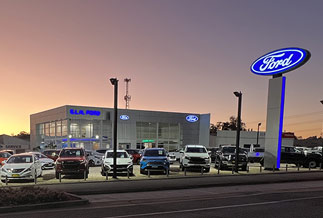 ELN Ford 
136 Pacific Highway
Tuggerah NSW 2259
Sales: (02) 4350-4333
New Vehicles Opening Hours
Monday – Friday 8:00am-5:30pm
Saturday 8:30am-5:00pm
Sunday Closed
COVID-19 DEALERSHIP PROCEDURES
In light of the recent Global pandemic Coronavirus (COVID-19), we have implement effective procedures to disinfect vehicles that may come into contact with dealership personnel, customers and others, we are taking this seriously to ensure the safety of all that we are involved with.
GENERAL SANITISATION
We are complying with all National, State/Territory directions in terms of Health precautions and business practices. We ensure that our team are adhering to the following general sanitisation measures:
Increased hand washing, hand sanitisation and ensuring social distancing within your offices and workshops
Provide hand sanitisers in visible locations on counters and easily accessible locations for staff and our customers
Avoidance of personal contact (including shaking hands) and minimising personal interactions where possible
We have clear signage throughout the Dealership about the precautions we are taking and the expected behaviours from both Staff and Customers to minimise risk, including Health Notices placed in prominent areas for information
We are ensuring infection control procedures are reviewed in consultation with cleaning staff and they have access to suitable personal protective equipment (PPE)
We are ensuring adequate supplies of cleaning equipment and necessary PPE are available
We have Increased the frequency of cleaning rosters to high traffic and communal areas within the Dealership
We wipe down office furniture and café surfaces twice daily
SERVICE DRIVEWAY
 High traffic customer areas are regularly sanitised
High touch surfaces (e.g. counters, desks and tables) and objects such as telephones, keyboards and tablets are wiped with disinfectant regularly
Handwashing protocols with an increased focus on washing between each customer transaction and the wipe down of customer equipment (iPads, Pens, Clipboard etc.)
Application of protective material to the vehicle including Seating and Steering Wheel covers
The use of disposable gloves by customer service teams and technicians as needed.
The use of plastic seat covers and floor mats.
We Use disinfectant to thoroughly wipe down the interior and exterior vehicle component surfaces listed below:
– Exterior driver's side door handle, and all door handes
– Steering wheel (including buttons) Centre console (outside only)
– Centre console (outside only)
– Gear Shifter / Selector (dial or handle)
– Park brake handle, Radio / HVAC areas and Touchscreen
– Start/Stop button
– Driver's door armrest and centre console
– Window/Seat/Mirror controls
– Rear view mirror
– Seatbelt buckle and anchor
– Rear bootlid / tailgate button / handle
– Bonnet and latch, Fuel door and Key FOB
Contact us For Further Information 02 4350 4333 sales@elnford.com.au / service@elnford.com.au